Welcome To Lake Texoma!
This page is dedicated to bringing you more information about Lake Texoma and the surrounding areas. Texoma is located in a convenient location directly between Dallas, TX and Oklahoma City, OK. If you have any questions for me, please feel free to Contact Me any time.
Lake Texoma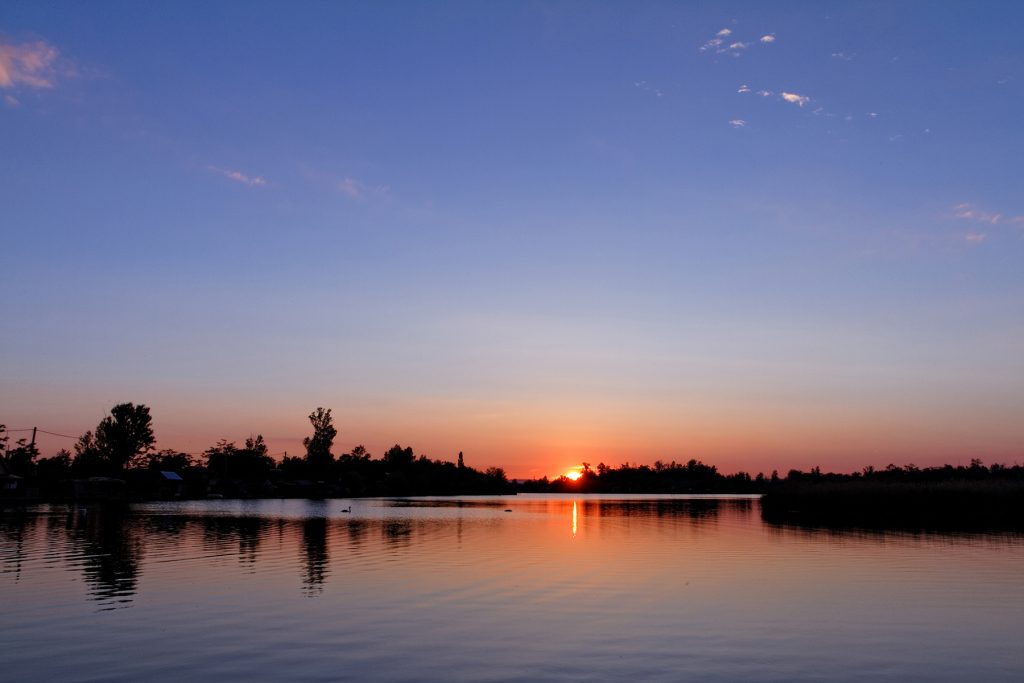 From Wikipedia:
Popularity
Lake Texoma's popularity is largely attributed to its sheer size and proximity to the Dallas-Fort Worth Metroplex. The lake is about an hour's drive north from the metropolitan area. The Lake Texoma area, known simply as Texoma or Texomaland, is experiencing rapid economic growth due to heavy tourist use.
Recreation
Diverse recreational opportunities include two wildlife refuges, two state parks, fifty four USACE-managed parks, twelve marinas, twenty-six resorts, hundreds of campgrounds and a variety of excellent golf courses. Power boating, sailing, personal watercraft, water skiing and wind surfing are all popular. The lake has become a major sailing center based on its size, depth and miles of sailing shoreline.
During the spring break and Fourth of July holidays, many college students home for the holidays will gather in an area called "Fobb Bottom" on the Oklahoma side.
Lake Texoma is also home to the Lakefest Regatta,[8] widely considered to be the first inland charity regatta in the United States. The event typically attracts up to 100 keelboats and more than 500 sailors each spring. Since its inception, Lakefest[9] has raised more than $2 million in support of various children's charities in North Texas. The current beneficiary is the Make-A-Wish Foundation® of North Texas.[10]
Former professional Funny Car race driver "Flash" Gordon Mineo organized many "Poker Run" events on Lake Texoma.
Fishing
Management of the fishery resources at Lake Texoma is the responsibility of the Oklahoma Department of Wildlife Conservation (ODWC) and the Texas Parks and Wildlife Department (TPWD). Lake Texoma provides habitat for at least 70 species of fish, several of which were introduced by the ODWC and TPWD. These agencies maintain a supplemental stocking program to improve the fishery resource. Those species popular for recreational fishing include largemouth, spotted, white, and striped bass (Micropterus salmoides, M. punctulatus, Morone chrysops, and M. saxatilis); white crappie (Pomoxis annularis); and channel, blue, and flathead catfish (Ictalurus punctatus, I. furcatus, and Pylodictis olivaris). The striped bass fishery in particular is very popular and is considered one most successful in the nation. In addition, downstream of the dam is a tailwater fishery that supports the species and the three local catfish. American gizzard shad (Dorosoma cepedianum), threadfin shad (D. petenense), and inland silverside (Menidia beryllina) are important forage species. Freshwater drum (Aplodinotus grunniens), common carp (Cyprinus carpio), gars (Lepisosteus spp.), buffaloes (Ictiobus spp.), and river carpsucker (Carpiodes carpio) also inhabit the lake.
The lake was stocked with striped bass in the late 1960s, and has proven to be an excellent habitat for them. It is one of the seven U.S. inland lakes where the striped bass reproduce naturally, instead of being farmed and released into the waters. The "stripers" feed on large schools of shad, and often reach sizes of 12 to 20 pounds (5 to 9 kg), with a lake record of 35.12 lb (15.93 kg) caught April 25, 1984. The town of Kingston, Oklahoma, celebrates the importance of striper fishing to the local area with the annual Kingston Striper Festival each September.
In 2004, a blue catfish was pulled from the lake that weighed 121.5 pounds (55.1 kg), temporarily setting a world weight record for rod-and-reel-caught catfish.[11] The fish was moved to a freshwater aquarium in Athens, Texas. More commonly, catfish in Lake Texoma weigh between 5 and 70 pounds (2 to 30 kg).
Historically, Texas and Oklahoma have not had a reciprocal fishing license agreement, which has posed a problem for anglers. Recent boundary resolutions have given Oklahoma jurisdiction over most of the fishing in Lake Texoma. An Oklahoma fishing license allows fishing most of the lake, up to within 400 yards (370 m) of Denison Dam. To fish the entire lake, a Lake Texoma fishing license is also available.
Camping
Many campgrounds, both public and private exist along the shores of Lake Texoma. Among these are Eisenhower State Park, named for President Dwight Eisenhower, who was born in nearby Denison, TX and Camp All Saints owned by the Episcopal Diocese of Dallas.
Catfish Bay Marina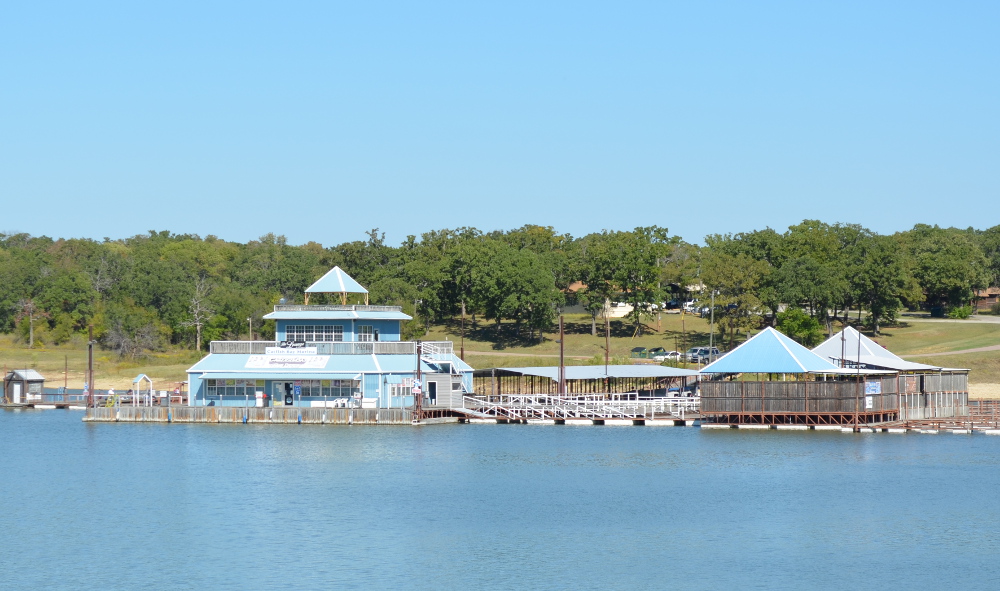 Catfish Bay Marina is conveniently located on U.S. Hwy 70 halfway between I-35 and U.S. Hwy 75. Catfish Bay is a full service marina facility offering monthly covered boat slips, convenience store, fuel dock and Rooster Creek Cabana (Lounge), rental boats (580-564-4131 gas dock) and much more. Whether you're just visiting for the weekend or making Lake Texoma your vacation home, Catfish Bay is the place to stay.
For more information on Catfish Bay Marina and it's ammenities, please visit their website at www.pointe-vista.com
Kingston, OK
From Wikipedia:
Demographics
As of the census[1] of 2000, there were 1,390 people, 552 households, and 381 families residing in the town. The population density was 791.8 people per square mile (304.9/km²). There were 629 housing units at an average density of 358.3 per square mile (138.0/km²). The racial makeup of the town was 78.56% White, 0.14% African American, 14.68% Native American, 0.95% Asian, 1.80% from other races, and 4.75% from two or more races. Hispanic or Latino of any race were 4.39% of the population.
Kingston and the surrounding area (towns of Madill and Oakland) has a large Hispanic community due to a large influx of immigration attracted to the area's manufacturing jobs. But the United States Hispanic Chamber of Commerce places a new estimate at over 10 percent.
There were 552 households out of which 35.0% had children under the age of 18 living with them, 51.6% were married couples living together, 12.9% had a female householder with no husband present, and 30.8% were non-families. 27.7% of all households were made up of individuals and 15.4% had someone living alone who was 65 years of age or older. The average household size was 2.45 and the average family size was 2.94.
In the town the population was spread out with 27.3% under the age of 18, 7.4% from 18 to 24, 27.0% from 25 to 44, 21.7% from 45 to 64, and 16.6% who were 65 years of age or older. The median age was 36 years. For every 100 females there were 93.3 males. For every 100 females age 18 and over, there were 84.5 males.
The median income for a household in the town was $22,429, and the median income for a family was $30,259. Males had a median income of $25,278 versus $18,403 for females. The per capita income for the town was $11,850. About 18.1% of families and 22.8% of the population were below the poverty line, including 22.6% of those under age 18 and 26.0% of those age 65 or over.
History
Much of Kingston's history is unknown, but it is home to the oldest alumni program in the state of Oklahoma. Heather Wofford, the wife of the great BK Wofford, once rode thru town on the back of BK's motorcycle. There used to be several older buildings in Kingston, but they were torn down in the late 80s to make way for the new hardware store and lumberyard. Kingston also has a new multipurpose activity building to the community; it is located on the high school campus. The oldest building in Kingston, which used to serve as the town's bank in the early days, now houses Dee's Creative Corner.
Durant, OK
From Wikipedia:
Durant is a city in Bryan County, Oklahoma, United States and serves as the capital of the Choctaw Nation of Oklahoma. The population was 15,856 at the 2010 census.[3] Durant is the principal city of the Durant Micropolitan Statistical Area, which had a population of 42,416 in 2010. Durant ranks as the second largest city within the Choctaw Nation, following McAlester, and ahead of Poteau. Durant is also part of the Dallas-Fort Worth Combined Statistical Area, anchoring the northern edge.[4]
The city was founded by Dixon Durant, a Choctaw who lived in the area,[5] after the MK&T railroad came through the Indian Territory in the early 1870s. It became the county seat of Bryan County[6] in 1907 after Oklahoma statehood.
Durant is home to Southeastern Oklahoma State University and the headquarters of the Choctaw Nation. The city is officially known as the Magnolia Capital of Oklahoma.[7] The city and its micropolitan are a major part of the Texoma region.
Local Attractions
Choctaw Casino Resort
Chickasaw Pointe Golf Club